Brother Javis' Book of the Month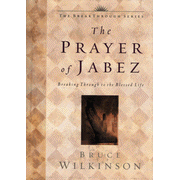 Discover how to release the miraculous power of God in your life! Taking you to an obscure corner of 1 Chronicles, Wilkinson introduces you to Jabez, whose audacious one-sentence prayer brought him extraordinary blessings---and has changed thousands of believers' lives. See what God will do for you when you put Jabez's prayer to work! 96 pages, hardcover from Multnomah.

You can order this book from Christian Book Club by clicking the picture of the book above. Bro. Jarvis would love to hear your comments about the book. You can send your comments by clicking the email icon below.

[Pastor] [Services] [Calendar] [Bus] [Sunday School] [Prayer]
[Home] [Missions] [History] [Jail] [School] [Links] [Radio]